News and Upcoming Events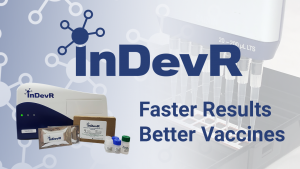 Boulder, CO, 17 January 2023 – InDevR, Inc., a provider of best-in-class analytical technologies for vaccines and biotherapeutics, announced that it has raised $9 million in series B financing. Adjuvant ...


InDevR will be presenting an Exhibitor Talk on November 7 at 12:50 - 1:00 pm ET. Speaker: April Blodgett To see our talk, visit the booth, and learn more about ...