Automated Analysis of Hemagglutination and Hemagglutination Inhibition Assays
Eliminate visual interpretation and generate digital records automatically
CypherOne reads, analyzes, and creates a digital record of your hemagglutination and hemagglutination inhibition assays. This automated process allows for unparalleled data integrity when compared to manual interpretation of HA and HAI plates. Advanced machine learning algorithm simplifies the process of making titer calls and removes subjectivity from this widely used method.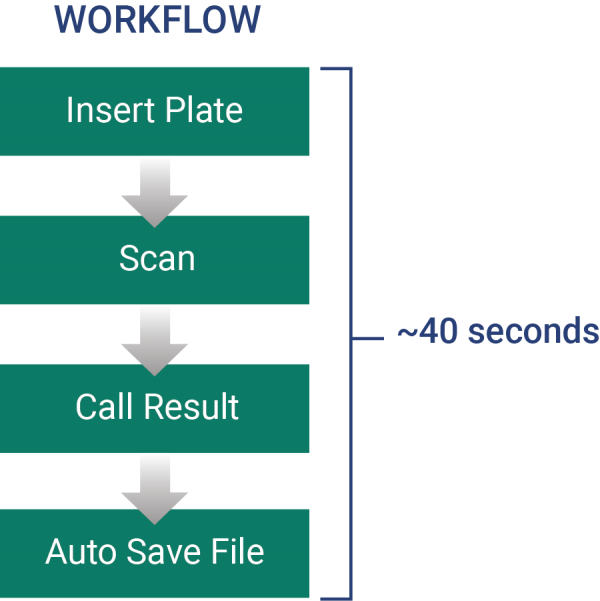 Benefits
Eliminate subjectivity and increase standardization across users and sites
Improve record keeping, data integrity and audit trails with digital, traceable records
Maintain compatibility with your current sample preparation workflow and methods
Free up essential staff and allow any lab personnel to read plates.
Applications
Antigenic characterization of influenza viruses
Evaluation of vaccine efficacy during clinical serology testing
Influenza diagnostics
Global influenza serosurveillance
Assessment during vaccine development
"The CypherOne from InDevR led us to some fascinating findings by enabling us to quantify data that was previously only qualitative in nature. The sensitivity of the instrument highlighted nuances between bacterial strains that were not evident using other methods. The instrument was very easy to use and the people at InDevR were incredibly helpful with insights into designing the assay and analyzing the data. Overall, the CypherOne allowed us to take our research much further than we thought possible. "
—Kathleen Arnolds
University of Colorado Denver, Anschutz Medical Campus
System Features
CypherOne instrument and PC
21 CFR Part 11 software enables easy compliance with audit review
High resolution image and titer results are stored in SQL database
QC plate available for easy calibration and operational qualification
Being an expert requires <1 hour training
Maintenance-free system
Flexible Software
Users can organize plate batch information, enter experimental information, adjust analysis parameters, view and edit results. The 21 CFR Part 11-compatible software has features such as user-based access controls, audit trails, and electronic signatures.  A database for record storage allows previous experiments to be tracked.  CypherOne system can also easily be integrated within larger information management systems through export and import of CSV files.